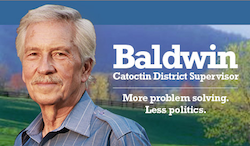 I can't think of a better, more succinct way of stating what we need from the 2011 (well, any) election.
All declared and potential candidates should study this website and adopt it as their model. This is what a serious campaign looks like.
I have known Malcolm Baldwin nearly as long as I've lived in Loudoun. I'm embarrassed to not recall exactly where and when we first met, but I'm quite certain it had something to do with helping our local community. His civic engagement has always embodied "more problem solving, less politics."
Malcolm is exactly the person who can lead the adult conversations we need to have about difficult issues like the poorly-handled CBPO; his thoughtful, inclusive approach is the polar opposite of the hyperbole and intentionally divisive political exploitation of this issue seen in recent LCRC messaging. Malcolm is anything but a knee-jerk partisan or ideologue, and I couldn't be more proud to have a person of his caliber and integrity to support as my next supervisor.
The campaign kick-off for Baldwin for Supervisor will be this coming Sunday, April 10, from 6-8 pm. The location is 8 Chains North winery in Hamilton. Come on out, you'll be glad you did.