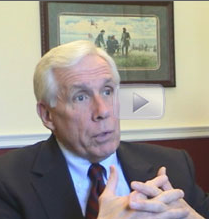 The Richmond Times Dispatch wrote a gushing opinion piece on Wolf's book, Prisoner of conscience.  The piece contained this quote:
American policy can make a difference…Economic pressure helps as well. The suspension of Most Favored Nation trade status for Romania, for instance, hastened tyranny's fall. We also would emphasize that sanctions against South Africa, enacted over Ronald Reagan's repulsive veto, sealed apartheid's fate. Disinvestment helped.
Regarding "Reagan's repulsive veto", Congressman Wolf is referring to the 1986 vote on H.R.4868, the Comprehensive Anti-Apartheid Act of 1986.  The Thomas knowledge base only publishes roll call votes back to 1989.  The 1986 vote predates, but it does publish an alphabetical list of  bill co-sponsors.  The  relevant 'W's"  are pasted below.
Rep Wirth, Timothy [CO-2] – 6/5/1986
Rep Wolpe, Howard E. [MI-3] – 5/21/1986
Where's Frank Wolf?  It's worth a question, isn't it?