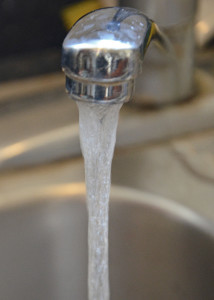 We've all been taught that we are mostly made of water, how we need it to live, to drink, to clean, to grow anything we eat, to nourish the trees that produce the air we breathe, and yet our world right down to the county level where we live fails to protect this precious life resource – like we could survive without water.
300,000 men, women and children in West Virginia found that the water in their home faucets from the Elk River made them ill and smelled something like licorice.  It was the scent of 4-methylcyclohexane methanol.  A negligent coal mining company, Freedom Industries, earning 30 million dollars last year, had 13 tanks all sixty years old and one 35,000 gallon tank leaked 7,500 gallons of this chemical through cracks in the containment wall into the Elk River. Incidentally, the waste water treatment plant's intake pipe took in the tainted water even after it had notice of the chemical spill, and pumped it out to its customers.  Needless to say, the treatment had not removed the chemical waste.
In Virginia, on January 8, 2014, State Senator Charles W. Carrico, Sr. (R-40SD), perhaps eager to mimic West Virginia's careless regulatory system, offered a bill, SB 217, in the General Assembly that, if it passes, shall increase the likelihood that we'll have coal waste in our rivers polluting our drinking water.  Presently, the Director of the Virginia Department of Mines, Minerals and Energy must provide a copy of any application by the coal industry for a permit to discharge sewage, and industrial waste from coal surface mining operations to the State Water Control Board.  When that happens, the Water Board may object if the discharge impermissibly pollutes our water.  Senator Carrico seeks to strike any notice the Water Board may receive and preclude any objection they might interpose.
70% of the earth is water but only 2.5% of that water is fresh water that we can use, and less than 1% of that fresh water is liquid – meaning not frozen.
The water that we drink comes from our rivers, lakes, reservoirs and, if you have a well, from under the ground in an aquifer if there is one close enough to the surface to reach by drilling.  The water we have is limited.
If you want to think of how that is true, then consider how, if you are on a well, you're sticking a straw into the same pool as your neighbor and his neighbor and so on.  The more straws, the more risk there's not enough for "you all," not if you draw water from the aquifer faster than it can recharge; then you have to ration, or do without.
One good local example of this is Purcellville's public water system.  In the summer, they put up warning signs to ration water use.  Unrestrained development increases the uncertainty there's enough water for everyone.  Recently, the Town of Purcellville annexed a new development called Autumn Hill/Mayfair of 257 single family and town homes that presumably will suck up hundreds of thousands of gallons of water a year more in a public water and waste system that already rations water.
There's this misunderstanding that the water above and below ground are unrelated and separate.  Some pour all manner of poison on their grass, rather than safer pest control methods, unconcerned that what we do above ground, affects our streams, and the waters that run underground in our aquifers.
Others are unconcerned to maintain their septic systems that can discharge pathogens and present a public health hazard if not well maintained.
Driveways, sidewalks, and pavement prevent rain water from soaking into the ground, so we have storm water runoff that picks up debris, chemicals, dirt and other pollutants that can find their way into rivers, ponds, streams.
We can put a man on the moon but we can't keep our water clean here on earth.