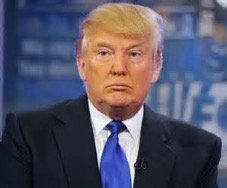 There is a disconnect on a rational and emotional level with this last Republican Convention as compared to past Republican Conventions.
I'm not talking about the "not ready for prime time" gaffes, nor Melania's plagiarism on opening night, nor the misty "Apollo Creed" convention entrance of nominee Trump, the arm-twisting rules decisions "to move things along," nor Senator Ted Cruz' thinly veiled pitch to the delegates to turn to Cruz himself as the Republican's nominee in 2020 after "the Donald" crashes and burns this November.
In my life, when the Republicans chose past candidates, every one of them, even President Richard Nixon, I could see it, understand it, the Republican choice, that is, even as I disagreed with their party's standards for choosing the nominees.
I was a kid when Dwight Eisenhower was the Republican presidential nominee. True, he hadn't ever run for elected office, like Mr. Trump, but, besides heading up Columbia University as President, where I served time undergrad and at the law school (long after "Ike" had moved on), President Eisenhower had been a five star general in the Army and was the Supreme Commander of the Allied Forces, heading up invasions into North Africa, France and Germany. Both parties had sought to have Eisenhower head up their ticket. Donald Trump is no Dwight Eisenhower.
Ronald Reagan may have been the consummate show man but he had to be more than that to position himself for a presidential nomination. He had been the head of the Screen Actors Guild, the voice of GE, the Governor of California, and ran for President in '68 and '76 before sealing the deal, and winning the presidential nomination and election in 1980.
Blemishes and past disagreements aside, I have never seen a worse nominee than Donald Trump so ill-prepared to lead this nation. Continue reading →