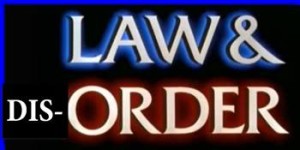 We have law and disorder in Loudoun County because of our Loudoun County Commonwealth Attorney and our Sheriff.
Our county slogan is, "We byde our time."  Well, we're finished "byding" our time.
A popular long-running criminal justice show, "Law and Order," begins every episode, saying, that: "In the criminal justice system, the people are represented by two separate and equally important groups, the police who investigate crime, and the district attorneys who prosecute the offenders," and then the intro concludes, "these are their stories."
Well, we've got a sad story to tell in Loudoun County.
Our Commonwealth Attorney, Jim Plowman, prosecuted a black man for felonies when three Deputy Sheriffs violated the Ashburn resident's constitutional right to be left alone.
More than that, this crack law enforcement duo, of Jim and Sheriff Mike Chapman, still can't figure out, after 1 ½ years, who and how one or more Deputies allegedly embezzled more than $200,000 from the Sheriff's Office.  At the least, that was awkward!
Only days ago, the Commonwealth Attorney, Jim Plowman, dissed his law enforcement "partner," Sheriff Mike Chapman.
There's good reason to wonder if Jim didn't hope by ditching his law enforcement "partner" in a busy election season, he could distract inquiring minds from examining the cases his office has handled.
While Jim was turning toward another law enforcement "partner" as a general election running mate, a federal trial jury in Alexandria was hearing evidence, starting on March 23rd, as to whether Loudoun Sheriff Deputies had violated an Ashburn citizen's constitutional rights.
Jim gave his announcement at almost the same time that the federal jury, on or about March 30, 2015, found that Loudoun County Sheriff Deputies violated the Fourth Amendment rights of Marcus S. Mial, also that there was excessive force, and awarded $662,500 in compensatory and punitive damages.
Marcus says on-line that, in 2010, he called 911 but then called 911 back to say everything was fine.  Still, the Officers came.  Marcus told them to go away, refused them entry.  When Marcus opened the door again, telling them to go away, over his objection, Marcus said, the officers "physically charged & pushed [me] back," Marcus said, they came without any warrant, they tried "to tackle me," then "tazered me, kicked me, punched me, kneed me in the back, severely bent back my right thumb and then arrested me."  Source: http://www.marcusmiallegalfund.com/
Despite this manifest constitutional violation, Jim's office prosecuted Marcus for two felonies, for assaulting the police officers who entered his home, and, a misdemeanor for "obstructing" the officers' uninvited "justice."
When the Circuit Court dismissed these charges (by nolle prosequi-s), it was reportedly on the grounds that the deputies had violated Marcus' constitutional rights.
In another matter, on information and belief, Jim did nothing when one or more Deputy Sheriffs allegedly walked off with what the Post reported was "more than $200,000" in drug proceeds and/or buy money from their drug investigations.
Sheriff Mike Chapman took office in January 2012.  The embezzlement was "uncovered" in October 2013.  One thing is indisputable, a year and a half later, no arrests have been made.  This investigation has been neither fast nor furious.
Jim told the Connection newspaper in 2003 that a top problem in Loudoun that he'd solve was the "lack of communication, cooperative efforts, and trusting relationships with law enforcement."
Given the performance of this dysfunctional "partnership," the public rightly suffers distrust.
Jim said that the consequence of a "rift" with your law enforcement "partner" is that it "compromis[es] public safety efforts."  It sure does.
Our solution to restore order and safety is quite straightforward – it's high time that Jim measured the drapes for a private law practice.