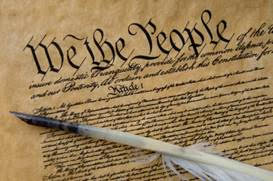 What ever happened to honesty and fairness as bedrock principles in American politics?
Many citizens no longer expect either.
It's always been a challenge to gauge what's true and fair but we have been in a politically toxic environment perhaps ever since we declared "the war on terror."
Our public leaders encourage us, in response to matters off shore and here at home, to focus on individual risk and fear, and to encourage reprisal and violence.
Our worst leaders do it by being entirely dishonest and unfair.
We have one blustering presidential candidate, so nativistic, he wants a very tall thick impregnable wall across the length of our southern border with Mexico. What's scary is so many don't think this is a joke. Nor does anyone think it's incredible to believe this candidate will get a border nation-state, Mexico, to pay for his wall.
We have another saber rattling candidate who wants to carpet bomb a mid-east nation and apparently believes that won't encourage "terrorists" to come here and do the same to us.
There are those who want every citizen to buy a gun. My neighbors were shooting their guns after dark while I wrote this – "practicing," I suppose, to defend against a home invasion or the unlikely event that ISIS might attack at or near Lovettsville's Town Council.
The worst aspect of this dystopic demagoguery, so misleading in concept and execution, is that these "leaders" are indifferent to the devastating effect on the nation's character, on how we may continue to make the historical claim that we are the land of the free and the home of the brave. Continue reading →