Stephanie Burget doesn't just work on Lovettsville's Octoberfest, and that's fun for her, but from her youngest years she has cared to ease the way for those ill or at risk to be healthy.
This was most evident in her education at the University of Maryland where she earned her Masters in Public Health, followed by tours of duty and service in the Peace Corps and with USAID.
Of course, in order to attend Cornell undergraduate and the University of Maryland, Stephanie had to teach to underwrite her education and her dream of making a difference.
Still, although she needed funding, she volunteered with the Fire Department, the Bethesda Chevy Chase Rescue Squad, where she was an EMT, and that paid her nothing; but she'd be helping others.
While with the Fire Department, she met this guy, Shawn, also on the crew, and she liked him, but she had things to do and, while she cared for Shawn, a relationship would have to wait, if there was to be any relationship.
Shawn was not in a position to follow her to Stephanie's public health mission in Togo, West Africa.
Shawn had a house and an AOL job and all those adult things; he was in a highly structured situation.
But here's the kicker – Shawn felt how Stephanie cared, about public health, and also how she cared for him, had a sense of this feeling years before, and didn't give it a chance.   He wasn't going to make that mistake again.
"This was the one," he said, and Shawn sold his house, left AOL, and went to Togo.
Stephanie said. "Shawn did not have a passport, and had to get vaccinations."
Togo is in West Africa, sub-Saharan, with temperatures ranging from 73 degrees Fahrenheit to 86 degrees.  This small nation state is sandwiched between Ghana and Benin and Nigeria, further to the East, resting on the Gulf of Guinea, with its expansive sand beaches, along a coast formerly known as the "slave coast," in the 16th to 18th Centuries.  Germany called the area Togoland during its occupation.  France took over until 1960 when Togo became independent.
And Stephanie had to learn French at classes taught in Togo to communicate with the citizens who spoke mostly French.  "My French was terrible," Stephanie said, "but I had decent lodging while my nearest neighbor lived in a mud hut."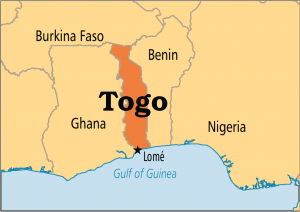 "But we did get to help," said Stephanie, "the Community Health and AIDS Prevention program was developed in 1995 to assist community based interventions especially in rural areas."
"When I came back from Togo," Stephanie said, "I had nothing."
Soon, she went to work for USAID, a government organization that implemented its first HIV/AIDS programs in 1986 and supports programs in nearly 100 countries, through direct in-country presence in 50 countries and through seven regional programs in the remaining countries.
Working in over 50 countries, PEPFAR has transformed the global HIV/AIDS response and supports more than 13.3 million people with lifesaving antiretroviral treatment.
Stephanie said, "The program made a difference."
There have been significant declines in new HIV diagnoses among adolescent girls and young women.  More than 2.2 million babies have been born HIV-free to pregnant women living with HIV and their mothers have been kept healthy and alive to protect and nurture them.
"Haiti is a special case," said Stephanie.
It's an island of about 11 million people, discovered by Christopher Columbus in 1492 that he mistook for India or Asia, and founded as the first settlement in the Americas.  It became a nation of slaves who fought to make the island independent but its government has undergone some dramatic changes.  Among its greatest challenges, especially after an earthquake and storms, has been disease, HIV/AIDS, meningitis, respiratory infections, waterborne diseases and intestinal parasites.
It has some of the most beautiful views and most tragic public health challenges.  But we are focusing these days on the images of suffering and destruction.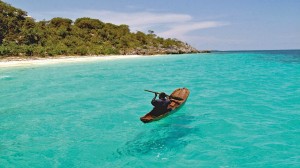 "In Haiti, I worked with Dale Gibb, the country director, had calls with staff weekly," said Stephanie, "and relief was only more treacherous with the earthquake and mud slides washing the trees away.  I worked with people in country but I wasn't on the ground.  I am distressed that some at home don't appreciate the extent of the horror experienced by the people."
Oh yes, by the way, Shawn proposed to Stephanie in Togo and they are married.  Helluva move Shawn!