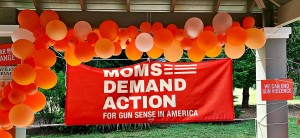 Many have found it particularly distressing given how little has been accomplished to assure citizens that they are safe from mass shootings and gun violence.
Moms, family and friends gathered to protest this past weekend – to demand action for a change.
In recent days, in Virginia Beach, a city employee killed 12 people and injured four more in a municipal building.
The killer carried two lawful .45 caliber handguns but he also had a silencer and an extended capacity ammo magazine.  The large magazine meant he didn't have to re-load and could continue to shoot longer and kill or wound more innocents.
Virginia Governor Ralph Northam (D) called for a special session of the state legislature to convene in Richmond on July 9, 2019 to consider measures that might prevent or curb gun violence.
Safety proposals have died in the legislature's committees and not gotten to the floor for a vote up or down by the full legislature.
Northam hopes that this special session will force the legislature to consider universal background checks, an assault weapon ban, also a prohibition against silencers and to outlaw any device that makes a gun fire faster.
This past weekend Moms from Lovettsville and across the County and indeed across the nation gathered to protest the violence and to demand remedies to counter the limitless proliferation of dangerous weapons and practices; local elected representatives came to the protest, and spoke and swore their support for action from coast to coast.
Lovettsville's Kristen Swanson said, "I'm a Mom who wants to put an end to gun violence, and my Mom Sally is here with me because she agrees."
"Our young people should grow up free from fear of violence," said Kristen, "what could be more obvious?"
There was orange worn by every one in sight.  It was the color that Hadiay Pendleton's friends wore when honoring her life after she was shot and killed in Chicago.  Hadiay was only 15 years of age, and killed just one week after she performed in President Obama's second inaugural parade.
An array of public officials attended this past Saturday on a hill near the Leesburg library.
Those in attendance spoke of painful remembrances of a young popular reporter in Roanoke, Allison Parker, 24, and her cameraman, Adam Ward, 27, who were shot dead; the shooter filmed the murders as well, and posted the carnage he created on line.
They recalled the 20 children killed in Newton, Connecticut, other children killed at Columbine in Colorado, and those students killed at Virginia Tech.
Attorney General Mark Herring and his wife, Laura, showed compassion for a suffering Mom at the protest.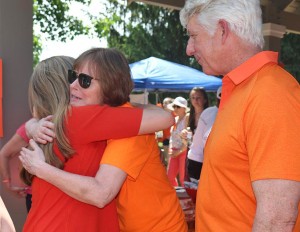 Mark has had his office enforce the laws that are on the books.  He assembled a team of prosecutors to crack down on felons with firearms and gun runners. Mark and his team have prosecuted more than 100 gun crimes in state and federal courts.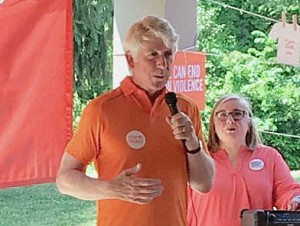 Congresswoman Jennifer Wexton mingled with those who were there.  Jennifer was strong on gun safety when a State Senator, and, since she's been in Congress, Jennifer has supported mandatory background checks on gun purchases, on closing loopholes that allow criminals to purchase firearms, and she seeks a ban on military-style assault weapons and high-capacity magazines.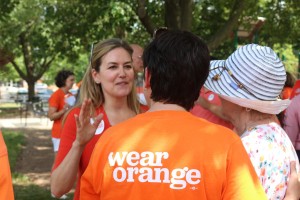 Others milling around asked some variation of the critical question, whether our nation's sense of morality and of conscience has grown weak, and, if so, when does our government become complicit by its inaction to do anything to control gun violence and to stop the mass murders?
The Special Session in Richmond raises some hope in an election year that, if change doesn't occur in the special session, then perhaps the change will occur at the ballot box in November.