Genuine religious freedom is on the move in Virginia. This concert benefits some of that work.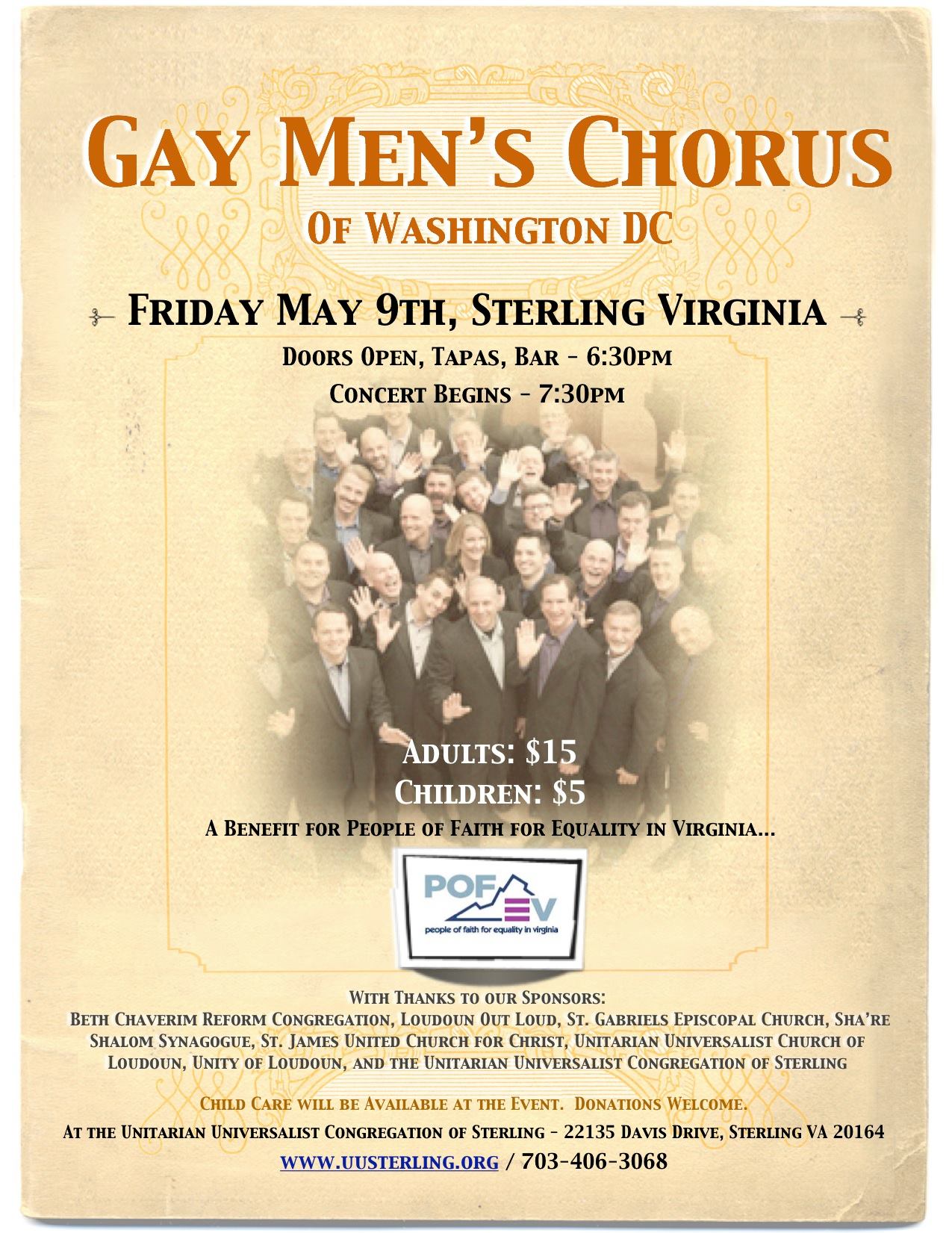 Support People of Faith for Equality in VA!
Friday May 9th, 2014
Doors Open, Tapas, Bar – 6:30pm
Concert Begins – 7:30pm
This is the third annual Gay Men's Chorus of DC concert in Sterling, VA. This is a night to celebrate the inherent worth and dignity of all people with music for the sake of joy!
Order your tickets now. [Note: the POFEV website is temporarily down; you can also contact them via facebook.]
Tickets purchased on the night of the event may be standing room only.
The Gay Men's Chorus of Washington, DC, is one of the Washington area's most acclaimed musical groups. GMCW won WAMMIES for Best Choral Recording in 2013 and 2014 from the Washington Area Music Association. Their Potomac Fever/Rock Creek Singer CD recording TOGETHER AGAIN won this year. ALEXANDER'S HOUSE CD won in 2013. You can hear and see some of their amazing performances on the GMCW website.
Please join us for this joyous and inspiring evening of music to hear one of the D.C. area's most acclaimed singing groups!
Child care will be available at the event. Donations are welcome!
We hope to see you May 9th in Sterling!
Brought to you by: Beth Chaverim Reform Congregation, Loudoun Out Loud, St. Gabriel's Episcopal Church, St. James United Church of Christ, Sha're Shalom Synagogue, Unitarian Universalist Church of Loudoun, Unity of Loudoun, and the Unitarian Universalist Congregation of Sterling.