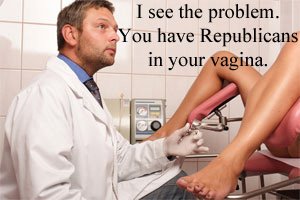 Last night the "official" Republican response to the State of the Union address was delivered by Washington representative Cathy McMorris Rodgers, who didn't engage in any distracting large motor activities.
Rodgers made the encouraging assertion that the current Republican Party "trusts people to make their own decisions, not a government that decides for you," and then a bit later that "Republicans believe health care choices should be yours, not the government's. And that whether you're a boy with Down syndrome or a woman with breast cancer … you can find coverage and a doctor who will treat you."
But obviously that is not at all what Republicans believe, as earlier in the day nearly all of them had voted to prevent women from choosing to access abortion care, and they regularly endorse efforts that would allow health care providers, in the guise of "religious freedom," to refuse to treat people on the basis of their personal beliefs about those people. Most notably this "freedom" to selectively do one's job has involved pharmacists who don't believe that people should use birth control, but it can just as easily be invoked to refuse all kinds of medical care to all kinds of people, care like hormone replacement therapy, fertility and prenatal care, and cancer treatment.