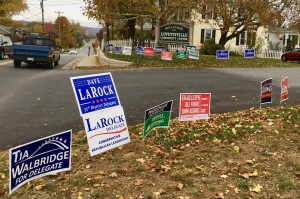 Hardly a person fails to follow the polls to consider the trend of opinion approaching the day of election.
In Virginia that appeared to favor Republican Gubernatorial Candidate Edward Gillespie closing in on his Democratic opponent.
There was a pol that had Mr. Gillespie's opponent, Democratic Gubernatorial Candidate Ralph Northam, with a 13-point lead in September, then a 6-point lead weeks ago, and a 2-point lead the weekend before the election.
There was much concerned talk among Dems and joyfully anxious conversation among Republicans.
As they went from polling place to polling place on the day of the election, many wondered if Northam might be the only member of the Democratic slate left standing by election night.
This seeming trend toward a narrow victory for Northam augured badly for down ticket Dems who rely on the tail of the statewide ticket to pull them over the electoral finish line.
Polls and pundits, however, were astonished at the results several hours after 7PM when the precincts across the state closed and began reporting their results. Continue reading →