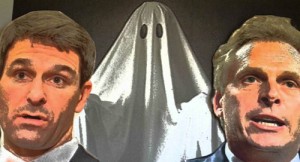 We Irish know in our genetic sinews, no scholarship need be considered, that Halloween, or all Hallows' Eve, springs from the medieval Gaelic Samhain, marking the end of harvest and the beginning of the darker half of the year.
It is little wonder then that we have most of our elections as the natural light dims and darkness grows.
In one tradition of All Hallows' Eve, souls wander the earth until this evening for their one last chance to gain vengeance.
This election season we have the feeling our candidates are making the holy day's danse macabre their inspiring motivator, calculating a revenge comprised of how they may get theirs — at our expense.
The right to vote that we "enjoy" is a forced choice made before the primary or caucus is held, the product of back room paper and power shuffling that pre-selected whom we may consider.
The districts themselves are drawn not rationally but by the force of numbers in the line-drawing state legislature with one clear purpose – to pre-determine each election's outcome.
Our voting discretion is "informed" by tall yarns, name calling and distracting issues that make the blood boil.
One clamoring voice outshouts another with high cost hard copy and electronic propaganda that muddle or drown out any contrary fact or opinion.
The election "trick" is the threat of how bad it will be if you don't choose the imperious "me."