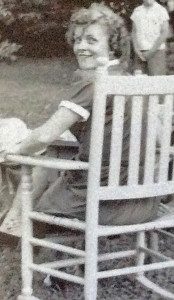 Teddy Roosevelt once said that a Mom's "career is more worthy of honor and more useful to the community than the career of any man …"
Too bad we don't treat our Moms that way.
My Mom raised two boys.  My younger brother, by three years, was Charlie.  When Charlie came home and my Mom put him in my lap with my legs dangling over the side of the couch, and said, she'd gotten my brother from the hospital, I asked, "When does he go back."
I found out he wasn't going back and my Mom spent her time clothing and washing and cleaning and feeding and walking and reading and entertaining and teaching and getting us to school.
We lived at 143rd and Willis Avenue in the South Bronx and my Dad was the Superintendent of our building after he returned from service in World War II.  My brother and I never knew what we didn't have.  But it must have been challenging for this young post war couple.
Our society is high on child-rearing but doesn't fairly judge the worth of Moms who raise children.
Not then nor now.
Moms who are college educated pay a "mommy tax" of more than a million dollars in lost income when they have a child, according to Ann Crittenden, who wrote "The Price of Motherhood," about "why the most important job in the world is still the least valued." Continue reading →