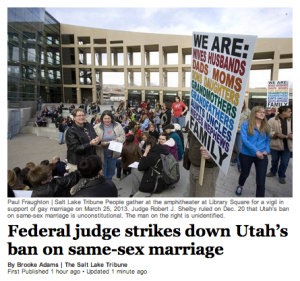 During the past 48 hours, we have learned that the Uganda legislature has passed what is one of the most draconian anti-civil rights bills targeting sexual minorities in the world – bookended between announcements that two more US states – New Mexico and Utah – are constitutionally prohibited from excluding same gender couples from civil marriage.
From the Salt Lake City Tribune this afternoon:
A federal judge in Utah Friday struck down the state's ban on same-sex marriage, saying the law violates the U.S. Constitution's guarantees of equal protection and due process.

"The state's current laws deny its gay and lesbian citizens their fundamental right to marry and, in so doing, demean the dignity of these same-sex couples for no rational reason," wrote U.S. District Court Judge Robert J. Shelby. "Accordingly, the court finds that these laws are unconstitutional."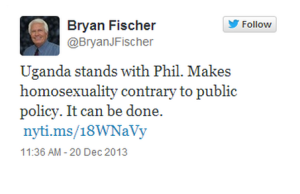 Meanwhile, Bryan Fischer, spokesperson for the American Family Association, was tweeting this about the situation in Uganda. I don't know that we could have had a more timely and chilling reminder of the fact that as LGBTI people in the US move closer to attaining full civil rights, anti-gay activists who are rapidly losing ground here are focusing more of their lethal attention on our sisters and brothers in other countries.