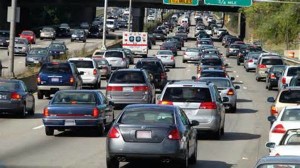 We have high occupancy lanes on the highway, I-66, that reward those drivers inside the beltway who plan ahead and take one or more extra riders and car pool; this sensible traffic policy cuts down on highway congestion, moves cars along otherwise frozen in space and time, and contains pollution.
What's interesting, as a matter of social engineering, is that there remain so relatively few car poolers and yet the high occupancy lanes still move faster than the congested traffic lanes.
Some might rightly think that, if requiring two riders for a high occupancy lane eases traffic flow, then why not increase the requirement to three riders? But, the plans for this innovation won't occur until at least 2020.
Instead, we have a short-sighted controversial proposal on the table, scheduled for 2017, allowing well-heeled solo drivers to buy a faster ride, to use one high occupancy lane during peak periods of traffic — if they pay for the privilege.
The policy is a shame and a disgrace.
It's one thing to modify personal behavior with a salutary public policy such as carpooling; it's quite another, however, to "license" the violation of that sound policy for a fee. Continue reading →