Update: I just learned of a small detail I got wrong in my account. Although we had discussed the need to make a donation, we actually didn't write a check; we brought cash. It doesn't help with the insinuation that there was some plot involving the cancelled check. Sorry about that, carry on. -Epl
I honestly did not think I would have to write this post.
True story: I was thrown out of the "Loudoun Environmental Council" Family Event Pig Roast Fundraiser.
This is what the invitation says: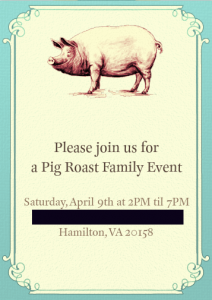 Family Event Pig Roast
Saturday, April 09, 2011 2PM til ???
Hosted by Loudoun Environmental Council
703 xxx xxxx
xxxxx xxxxxxx xxxxxx xxxx
Hamilton, VA 20158
Please join us for a Pig Roast on Saturday, April 9, 2011 from 2:00PM to 7:00PM
Kids welcome, there will be activities, food, and a sundae bar.
Rain or Shine
Donation not required but appreciated
We are raising funds for the continued fight against the CBPO and for rational environmental goals.
This will be a fun day to thank you for your support in the past and your support in the future.
No speeches, just fun
Barbecue Whole Pig, Beans, Potato Salad, Coleslaw
Hot Dogs and a Sundae bar for little kids and big kids.
Adult and kids beverages provided
Country casual
Look, obviously I've been very critical of LEC, because they don't appear to be what they say they are: non-partisan and concerned about clean water. I have explained why that's what I think, as clearly and as transparently as I can. I've also explained that I have a lot of questions about the CBPO and whether it's the best solution for protecting our streams. I don't know what LEC means by the phrase "rational environmental goals," but I'm trying to find out. For all of these reasons, on Saturday it really seemed like it would be a good idea to see if LEC was more complicated than I thought.
So, we wrote a check decided on a donation amount and drove down there. Why would I donate to an organization I'm so critical of? I don't know – unsubstantiated hope? I was prepared to be disappointed, but when you go to a fundraiser at someone's house that's the right thing to do. I'm sorry if that offends anyone.
This part, you must admit, is pretty awesome: On the way over, my cynical husband wanted to know where we should go get lunch after they kick us out. I thought that was hilarious! That's the last thing anyone would do! No, I mean it really is. Because that would be the absolute worst way to handle criticism imaginable. No one would be that stupid! And now I can't get over how stupid I feel to have so sincerely believed this.
Anyway, at the entrance to the driveway is this jumbo pig, only with a sign that says something about the "
Dulles Area Tea Party
." Ok, that's not a surprise. We knew that's part of LEC.
We approach the patio where the party's going on, looking for people we know, when boy howdy, I have never seen such an animated engagement in conversation by two people in my life. I do hope that those reading this understand that we know and have some affection for these people. This can happen when you have human contact. So when I say that the manner in which Kristen Kalina made the distance between herself and us disappear reminds me of a certain rooster I have when I approach "his" yard, I do not think she will take it the wrong way. Ditto for the way that Tom Seeman so earnestly took up a position on our left, where he was shortly after joined by Dean Settle, whom I have been given to understand was carrying a concealed weapon, which I don't doubt one bit.
I felt that the conversation dragged a bit once Dean started talking about some people he had beaten up on a picket line once, but that was ok because then Jonathan tapped me on the shoulder to let me know that Sally Mann – whose patio we weren't quite on – wanted to talk to me. This part is pretty awesome, too – because I was already shaking her hand saying "Sally! It's nice to meet you!" when I learned that she was throwing us off her property. Awkward. "You have said mean things about me on blogs that aren't true, so I'm going to have to ask you to leave," said Sally Mann, twice, because she said it to my husband by mistake the first time.
What are these mean things? We do not know. The only example I could get out of Sally is that there is a "not very flattering" photo of her in the set from the LEC rally in the government building, in a post that doesn't even include her name. It remains a mystery. We left.
Since it was announced publicly that some LCRC candidates would be present, and we had seen only LCRC candidates and activists while we were there, I had to wonder; I called Malcolm Baldwin to ask if he had been invited. He hadn't heard anything about it, but told me "I'm sorry to have missed it, and to have missed seeing my friend Sally Mann."
It's disappointing, it's not really what I expected to see, but the conclusion I have to reach is that this was a private LCRC party, and that is the reason we were thrown out.
Here's a suggestion that others may find helpful: If you think someone is unfairly criticizing your organization, what you really want to do is demonstrate that their criticisms are unfounded (Hint: This only works if they are actually unfounded). So, if you think the things I've suggested about LEC are wrong – say, that it was created to leverage the CBPO issue to help the LCRC in the 2011 election – then show me why I'm wrong. Definitely don't do what Sally Mann did, which had exactly the opposite effect. What I experienced at her house has confirmed and extended every criticism I've raised about LEC.