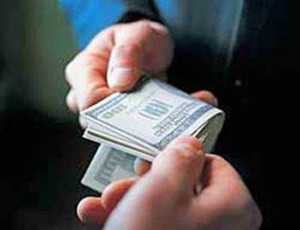 Why should our state legislators in the General Assembly get any gifts at all?
Don't we pay them enough already?
If we don't pay them enough, then we should raise their salaries, if we think they deserve more, but, otherwise, they shouldn't get any gifts from high-paid lobbyists and independent operators seeking legislative or executive branch "favors."
Former Governor Bob McDonnell plainly couldn't afford to serve as Governor, given his "unconscionable" credit card debt, and certainly not without private gifts to cover his expenses.
Legislators and executives who can't afford to serve without betraying the public's trust may not "serve" at all.
These lobbyists and monied interests give gifts to gain access and to demand support for bills, resolutions or executive actions they want.
Governor Bob "Rolex Watch" McDonnell and former First Lady Maureen "Oscar de la Renta" McDonnell lusted after and accepted gifts and loans, prompting their recent 14-count, 43-page federal indictment.
The General Assembly reacts by writhing in misery that they might just have to give up their gifts.  According to the VPAP, they received 973 gifts and trips last year totaling more than $260,000.
On one trip, there were 12 state legislators traveling to Turkey, paid for by the American Turkish Friendship Association, some with their spouses, ka-ching, at a cost of $36,650.00.
Virginia Uranium wants to end Virginia's uranium mining moratorium.  They funded travel to Bessine, France for five legislators to "inspect" a French uranium ore mine, ka-ching, for a cost of $27,488.  You don't have to go to France in person to study how best to mine nuclear materials safely, or to estimate the social cost and financial peril of inferior uranium mining.
Senator David W. Marsden, of Fairfax, a guest of the South Korean government, traveled at a cost of $7,600, so that the Korean Government could persuade him that the Japan Sea really should be called something else, the East Sea.  The Commonwealth of Virginia cannot rename an International Water.  Some think it will be enough to appease Korean voters in Virginia if we merely misrepresent the facts in Virginia school textbooks – that this body of water may be called "either" the Japan Sea or the East Sea.  This is not how we ordinarily adjust the world's geo-political boundaries – by misleading students and citizens as to the true effect of our actions.
Delegate Barry Knight took a $6,000 hunting trip in Alaska, courtesy of the Virginia Public Safety Alliance.  Perhaps, he was hunting for an honest man.
Delegate Greg Habeeb said, in words or substance, "I'm going to Sea World," and the Busch Gardens' rep said, in effect, "Why, let me give you $719 in theme park tickets."  The Delegate readily accepted the gift.
Our elected officials were invited free to a Masters Golf tournament in Augusta (Del Knight who went to Alaska, was one of those who went to this tournament – s $2,600 value)(thanks to Dominion Virginia Power).
Sen Frank Wagner went to the Sam Snead Festival (thanks to Appalachian Power).
Washington Redskin tickets are showered on our elected officials (including, get this, a $1,300 tab for one game for Del Ron Villanueva and his friends (thanks to Dominion)).
There are also gifted concert tickets, conventions, steak dinners, "goodie bags," and more.
The possibility is slight that any business is conducted at any of these functions, while on the golf course, during the Redskins' game, when the conductor taps the orchestra to attention, or while they are digging into their steak and cocktails.  It is little wonder if our General Assembly is overweight from eating, and under wrought about ethics for the lack of much ethical practice.
In the end, this is not complicated.
Stop the taking of all gifts by our elected officials.