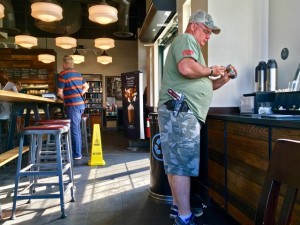 No one likes to caffeinate when somebody is "packing" at Starbucks.
Well, almost no one.
Last Thursday morning, the Purcellville Starbucks had its usual ration of Moms with a well behaved child or two, lines of folk waiting for their small or grande caffeinated drinks, a latte or cappuccino, at least one sweet tasting java chip, some patrons sipping their drinks as they headed out quick step for their daily commute, and an array of others, not so rushed, sitting at various counters and tables pecking away at keyboards, telecommuting or indulging a round of social media, others turning the pages of the Washington Post, a few working their cell phones, and chatting up the latest gossip and personal news.
I was sitting at a table revising a memo for court when a broad-hipped large-bellied man in baggy Cami-shorts with a holstered firearm came by, wearing a loose light-green t- shirt with a full size skull on the back, a backwards flag all in red on his shirt's short cuff, and the word, "Infidel," in large red letters on his chest.
Eyes noted and averted.  Continue reading →