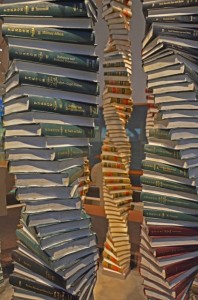 Are we really going to ban Johnny's chances to read whatever he wants to read – including age-old literature classics?
Some misguided parents and fellow travelers in Accomack County want to create a list of "banned" books including "To Kill a Mocking Bird" and "The Adventures of Huckleberry Finn" and remove them from classrooms and libraries.  Could it be that some want to conceal the storied picture of intolerant whites in the South?  A parent in Fairfax wanted Toni Morrison's Pulitzer prize-winning and National Book award book, "Beloved," having to do with slaves, banned.  There are Richmond legislators who think we need a black list of banned books.  They made a run at this wrong-headed legislative initiative last year and, mercifully, the Governor vetoed this backward idea.
We also have Del. Bob Marshall (R.-Prince William) who insists we "resolve" to do something (Bob's doesn't say what) to redress the pornographic "epidemic."
The complaining parent, who wanted "Beloved" banned, said she was really concerned about sexually explicit elements in the prize-winning novel.  The Governor refused to ban the book based on a single scene exclusive of the novel's context.
The targeted books so far have to do with race relations or sex that consider our nation's failure to fulfill its unfulfilled promise of equality, and a complex of issues that affect the human condition including our youngsters.
When I was in High School, a Jesuit was critical of an essay I wrote, and what he considered a "run-on" sentence.  I asked if he was familiar with "Ulysses" by James Joyce.  He was not.  I explained how, in this classical masterpiece by James Joyce, he wrote a single "run on" sentence 40 pages long, the soliloquy by Molly Bloom.
Molly's 40 page soliloquy was attacked for its sexual content, and, way back in the 30s, Joyce's Ulysses was banned as "obscene."
A young NY girl read a scene in the book, the Nausicaa episode, inspired by Homer's Odyssey, a section separate and apart from Molly's extended musings, and made a beef to the Manhattan DA.  She was "shocked," she explained, and effectively banned the book, prompting a NY State Judge to find that the book was "like the work of a disordered mind."
The publishers, however, got another cut at the issue before the NY federal courts.  The U.S Government this second time attacked Molly's "unparlorlike" language, the blasphemy throughout, and last but not least – that Joyce expressed thoughts usually repressed.  Imagine the offense.  U.S. District Judge John M. Woolsey disagreed that the book was pornographic, found it to be a classic, especially for Joyce's stream of consciousness technique, and found that, if Joyce had not revealed his characters' thoughts, this would have been "artistically inexcusable." The book was not "an aphrodisiac," Judge Woolsey concluded, and was welcome in the United States.
By the loose standards parents and legislators resist free expression of works they have not read, they might compare Biblical episodes before they impetuously cobble together a black list of banned reading material.
They might crack open the bible by their bed stand, and look at the passages describing Samson and the harlot [Judges 16:1], Lot with his daughters [Genesis 19:33-36], Reuben with his father's concubine [Genesis 35:22], Judah and Shuah [Genesis 38:2], of course, Onan [Genesis 38:8-9], Judah transacting with a harlot [Genesis 38:15-18], a brother forcing a sister [2 Samuel 13:11-14], Absolom and the concubines [2 Samuel 16:22], what it means to be unsatiable with the Assyrians [Ezekiel 16:28], wild goings on in Egypt [Ezekiel 23:3], the special case of Aholah in Assyria [Ezekiel 23:5-8], also her sister, Aholibah [Ezekiel 23:11-21], Israel defiled [Hosea 6:10], how wine may prompt an "uncover[ing]" [Genesis 9:21], David uncovering before Michal, daughter of Saul [2 Samuel 6:20], Ethiopians uncovered [Isaiah 20:4], a harlot "subtil of heart" [Proverbs 7:7-22], the daughter not quite the maid [Deuteronomy 22:17], a night the more pleasurable because of myrrh  [Song of Solomon 1:12-13], a tantalizing simile of twins and lilies [Song of Solomon 4:5], of towers [Song of Solomon 8:10], twin roes [Song of Solomon 7:3], clusters of grapes [Song of Solomon 7:7-8], and, finally, a cleansing with David  [2 Samuel 11:4].
By the pliable censoring standards thrown about by the thoughtless, we'd be banning the Bible.  We shouldn't be banning any literature including the Bible, nor tinkering with lawful Internet content, nor the tsunami of movies and music coursing digitally through our myriad e-devices.
When first other nation-states have taken steps like this, limiting access to literature and writings, they embark on an unworthy continuum of misconduct that often concludes with burning books, and these days, that would likely mean as well – hitting the delete button.