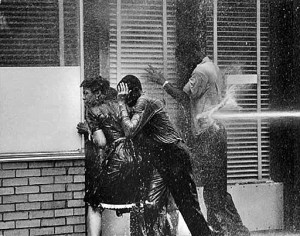 When I was 14, my friends and I were playing at Richard's tenement apartment in the South Bronx, and Richard's Mom asked quietly if I would leave and get my friends to go as well.
I must have looked puzzled when I said I would because Richard's Mom said in a whisper, "You can come back later but don't bring Stevie."
Stevie was black.  He was one of my friends.
It was my first encounter with racism.
This is how an individual conscience awakens to bigotry.
In the neighborhood, among us kids, we were from lower middle class families, nobody had gone past High School, not the parents, nor the kids, we were a mixed lot of Irish, Italian, Jewish, Black and Puerto Rican boys mostly.
We played stickball, sewer to sewer, hand ball, swung from the hanging ladders off the fire 'scapes at street level, ran up and down alleys, through basements and court yards.
We were friends with unnoticed differences, who talked trash, had fist fights, but got along.
Senator Patrick Moynihan might have considered us a species of his "melting pot" but we were hardly homogenous.  We celebrated our differences while remaining companionable.
There's a lyric in the musical, South Pacific, that "You've got to be taught to hate and fear."  We neither did hate nor fear. Continue reading →