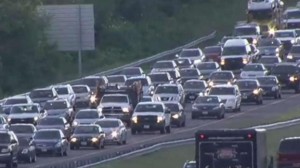 DON'T DEVELOP EVERY SQUARE INCH OF LOUDOUN – that's what the developers want – and some Supervisors are trying to figure out how they can serve these masters of dystopia and fool us all into thinking this is the best we can do, and that they did the best they could with a difficult set of facts. Nonsense!
This kind of thinking will ravage our community already suffering from density, traffic jams and a loss of lifestyle.
There are 45,000 homes in the existing pipeline.
We don't need these – and we don't need anymore.
The communities from one end of the county to the other have said STOP THIS DEVELOPMENT.
We get a head nod – like we're being heard – they say we're being heard – but we are "instructed" by our reps that we just have to have more housing.
So much for representative government.  We said no but they bow to the arrogant development community that wants more, greedy, not satisfied with what they already have.  They want more.
We are overrun with lies and deceptions about "what we need."
SEND A MESSAGE TO THE BOARD – lean on them – say "WE WANT NO NEW HOUSES."  Enough already.
Tell our Supervisors if any of you vote to bring on new houses, then we vote to have new supervisors – to over-ride what you've done to destroy this county and our way of life – and we do this without regard to party – as this is about how we live where we live.
If you're really our friends, elected to represent those of us who live here, then hear what we're saying, and if you really care for us – stop this boondoggle right now.
As for my friends and neighbors, tell everyone who will listen to you at the water cooler or a parent teachers meeting, that each of us citizens in Loudoun County is going to demand that any candidate for the board say where he or she is on this issue.
Let's make it crystal clear that we really mean what we've been saying for years – at every step of this manipulative "evolving" process that has tried to get us to bow to what we know is wrong.
If a candidate for the board doesn't have the right answer, cashier him or her.
If the candidate has the right answer, support him or her.
Let's make this hard for the developers who care not at all what we say or may suffer and make this easy for us.
Let's get to work!