Among the wonderful encomiums lavished on Anne Larson this past Saturday was that, if it weren't for Anne, the entire gathering couldn't meet in her old Taylorstown frame shop to honor her because many years earlier the Army Corps of Engineers had wanted to submerge the area under 81 feet of water; Anne firmly resolved to fight the effort and to achieve what few thought possible.  But Anne would be the first to tell you, she didn't do it alone.  No one could.
The Catoctin Creek originates in the Blue Ridge Mountains in Western Loudoun County, flows northeasterly through the Piedmont, hugs the area around Taylorstown, finally emptying in the Potomac north of Leesburg.
Emerson once wrote, "Our chief want is someone who will inspire us to be what we know we could be."
Judging from the gathering, not only does Anne inspire and lead others, she found fertile ground in the community in the mid-1970s to form a far-flung ensemble of concerned and quite talented friends and neighbors who, together, made a dramatic difference, after a hard fought campaign, of defeating the Army Corps of Engineers.
This should give heart to anyone who seeks to resist a poorly conceived public policy.
In mid-1974, the Fairfax County Water Authority and the U.S. Army Corps of Engineers decided that Catoctin Creek was a prime candidate for a dam and reservoir to impound water for a 7-day supply for the Washington, DC area during drought periods.
The plan was to flood more than 3,000 acres of Loudoun County, including Taylorstown, and part of Waterford.
In opposition, the community fought to establish the Catoctin Creek as "scenic," have Taylorstown added to the National Register, and amend Virginia's eminent domain statute so that another jurisdiction, DC in this case, would be barred from "taking" land or water to create a dam or reservoir.
In the end, this plan of action enjoyed wide support among regional and local papers and an array of public officials, stopping the Army Corps of Engineer dead in its watery tracks.
Anne has since made her participation in the Catoctin Creek Scenic River Advisory Committee her personal mission, to resist inimical intrusions on the creek, to protect game birds and stream dwellers, and to encourage tree and bush planting, so that there is a "riparian buffer" to guard against erosion and to provide food and habitat for wildlife.
David Ward, a prominent hydrology expert, and Advisory Committee Member, gave a demonstration at the Creek focused on how and why you measure flow and the health of any Creek.
The rate of flow of a stream or creek plainly relates to water supply management, pollution control, irrigation, flood control, energy generation, and industrial uses.
The Catoctin Creek flows freely under a bridge near the Taylorstown store and some outdoor enthusiasts care to know if the water is moving fast enough with deep enough channels to put a canoe in the water.
David used a technique called the "one-orange method" to measure the rate of flow.  But David didn't use an orange.  He preferred to use a yellow rubber ducky.
With the orange method, you submerge the orange to the bottom of the stream at the deepest vertical location you can find (and reach), and release the orange.  You see how long it takes for the orange to travel 16 feet down stream, and the calculation is simply the ratio of distance divided by time yielding the rate of flow.  You ordinarily repeat this several times to get a reliable estimate.
But David replaced the orange with a phalanx of yellow rubber ducks.
"I find that youngsters and adults alike have more fun with little yellow ducks," said David, "so, we're replacing the oranges to the same effect.  I'd say the rough estimate of the flow we're observing for this demonstration today is about 2 feet a second, pretty quick.  But this exercise is less about measurement and more about understanding the principle, how we measure flow."
Even in the shadow of an impending rainstorm, the flow was free of eddies, slack water or noticeable turbulence.
Another indication of the health of a stream, David showed, was what small creatures are able to live and thrive in the waters.  At a glance, David reached into the Creek and picked up a cray fish to show the signs of a lively Catoctin Creek.  Of course, there is a more formal technique – https://vimeo.com/180512135 .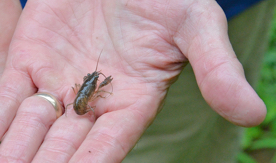 Advisory Committee Co-Chairs David Nelson and Bruce Johnson kept secret the special awards they arranged for Anne.
They planned to honor Anne secretly for what she had done so publicly.
Judy Ross presented Anne with an amazing amusing satirical illustration, a caricature of Anne, as "Empress for a day," and the assembled friends and neighbors lifted champagne glasses to toast Anne.
"This surely was a surprise," Anne said.