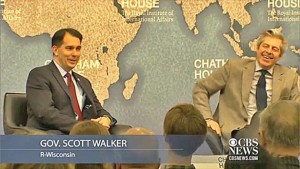 Within one day of the 206th anniversary of the death of Charles Darwin on February 12th, Governor Scott Walker (R-WI), testing the waters to run for President of the United States, "punted" on the question of whether he believed in Evolution.
A British Moderator asked Governor Walker, "Are you comfortable with the idea of evolution, do you accept it, do you believe in it?
Mr. Walker said, "I'm going to punt on that one as well.  That's a question a politician shouldn't be involved in one way or the other, so I'm going to leave that up to you."
The moderator responded, "Really?"
Another possible Presidential wannabe in the 2016 sweepstakes, former Governor Mike Huckabee, was one of three Republican presidential contenders in the May 2007 Republican primary debate who said he didn't believe in evolution.
We have High School students across the nation who know better than that. Continue reading →