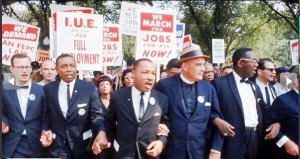 Tom Paine wrote that our new nation had the opportunity "to begin the world over again."
This election year, voters seem to want to do just that – but the ratio of incomprehensible noise to common sense has been five to one.
The Reverend Martin Luther King said, "Let us be those creative dissenters who will call upon our beloved nation to a higher destiny, to a new plateau of compassion, to a more noble expression of humaneness."
When marchers walked on Martin Luther King's Day from the court house to the school house. the diverse community of warmly bundled marchers, were conscious that their only inconvenience was the wind and weather.
The march in Selma, Alabama, however, was conducted at some risk, and helped to win the voting rights legislation in 1965.
Selma succeeded because, as King described it, a "stubborn sheriff" acted so wrongly in handling that protest, he "stumbled against the future."
The Reverend King was focused on what was just and fair, on equality, and the guide for his activism was the non-violence of Jesus and of Gandhi.
After Selma, King said that, "Occasionally in life one develops a conviction so precious and meaningful that he will stand on it till the end. That is what I have found in nonviolence."
Anticipating his own death, King said in the Ebenezer Church in Atlanta, that he identified with those who were poor and hungry and, "[i]f it means dying for them, I'm going that way, because I heard a voice say, 'Do something for others.'"
The challenge for our nation, in his mind, was human rights. Continue reading →