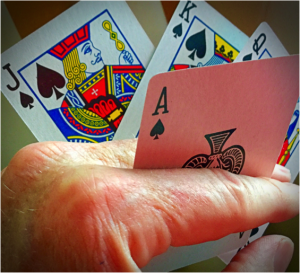 Now you see it. Now you don't.
Since I was a kid, I've loved magic, learned and performed tricks with cards, coins, magnets, (foam rubber) rabbits, large silvery clanging rings, false bottom boxes, ropes, and guillotine-like finger "slicers." I found Harry Houdini mesmerizing, and I still love going to a good old fashioned magic show – as I did the other day to watch a self-described "Hogwarts graduate," Michael Barron, who does "magic tricks for a living."
We know that magic is an illusion, that the finger sliced off when the blade falls will be restored, yet we scream, for our collective mind suspends its disbelief, wanting to believe we've observed a magical singularity defying all past experience and common sense.
We play the fool, indeed we crave to be deceived, so we may puzzle, "how do you suppose he fooled us?"
How is this like politics?
It's similar but not so harmless.
In politics, we often have the oleaginous con, the pol who does not perform as well as a tyro carney magician, he may even appear to be a clumsy oaf, stumbling to speak, having nary an original thought, a slender resume to fill the elective post he seeks, but he searches cleverly, like a political dowser might, to find the wellspring of our hope or fear that he promises to satisfy – while our jimminy cricket whispers, "you know, he can't possibly do that."
You've heard it this silly season.
One says – Walls will go up I tell you.
Another – Opportunity will rise – beyond your wildest dreams.
There's a high price we pay for being suckered by such political misdirection. Continue reading →