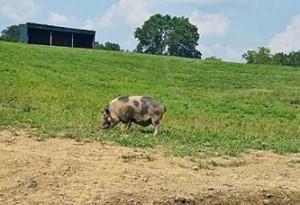 You've probably all noticed how, like the spreading tongues of flame, a fire of intolerant discontent burns off the reason of dissenters in Facebook (FB) groups with insulting in-your-face remarks, all too often for my taste, calling for intemperate action, unconcerned as to what the facts may be, or what ordinarily is considered right conduct.  Indeed, impetuous irresponsibility is the most obvious increasing characteristic of these FB group exchanges.
In my neighborhood, the greatest offender is "Lovettsville 20180."
Amidst sensible posted discussions, someone strikes a match and we have an eruption of mostly macho trash talk threads that rival hunger strikes.
But the latest flare up comes from down Middleburg way – from a group named – "Middleburg Uncensored."
It was about a sighting of two pigs.  Some say they're pot-bellied pets.  Others insist they're the scariest weightiest wild tusked boars that you'd ever care to imagine.
They were seen wandering in pastures.
One group wanted to approach the problem carefully:  "Save the pigs – and find the owner."
But the gunpowder crowd knows what to do: "Kill the animals."
This is a picture (above) of one of the terrifying "pig monsters," courtesy Penny Loeb (copied and cropped – so you can better see the pig – from Penny's FB post).
This is a pot bellied pig.  It's a grass eater.  It's eating grass.  Penny was a restraining voice of reason and caution, concerned to be deliberate in capturing these pigs.
But that was not to be the fate of one of these pigs. Continue reading →