Peace on Earth – that's what this season is all about.
Yet, we've witnessed from afar how in a matter of minutes Pakistani school children can be killed en masse by Taliban terrorists.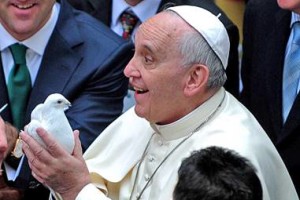 We wonder whether peace is an elusive idea that perhaps cannot be achieved on earth.
Our leaders raise their voices in hymns of hate.  Words of killing, conquering, overcoming other peoples, fall too easily from the tips of tongues, untested in tasting words of peace, except to justify the wars they wage, preferring death and suffering instead, and often of the truly innocent, dismissed as the collaterally damaged.
It's hopeful, therefore, when we can seize upon a peace overture that succeeds.
It shows that we are better than the mad impulse to war.
Pope Francis, 78, became Pontiff in March 2013.  Almost from his first day in the Vatican, he worked in secrecy to enable President Barack Obama of the United States and President Raul Castro of Cuba to set aside past distrust and convene a dialogue for peace.   Continue reading →