A second update (the first one appears at the bottom of the post): This is the original image that was photoshopped by Loudoun Republican Eugene Delgaudio to turn the blood "rainbow," which he then lied about to the Loudoun Times-Mirror. This was found by a commenter via google using the search terms "blood door."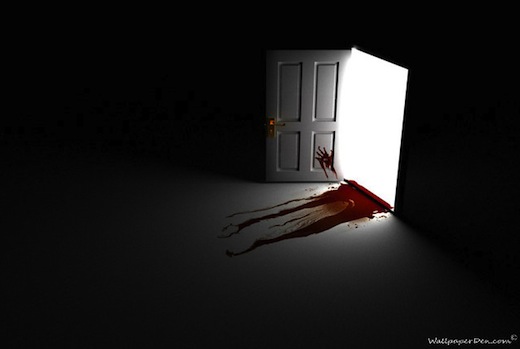 Editor: Please direct the following to all individuals with input into political endorsements at the Loudoun Times-Mirror.
Is this what the Loudoun Times-Mirror editorial staff had in mind when you said of Eugene Delgaudio "his view on social issues is unsettlingly conservative and his antics distracting"? The attached image of the GLBT rainbow symbol in the shape of a pool of blood, complete with a gruesome bloody handprint, was sent to the presumed supporters of an elected official to whom you just gave your endorsement for reelection. While it could be described as unsettling, especially if one has been witness to such a crime scene, I don't think that "conservative," "distracting" or "antics" would apply.
I found it surprising that you would not have found the history of this individual's hate speech directed at minority groups residing in his district, culminating in his reference to a hypothetical member of one such group as "it," sufficient to render him unfit for any public office. These are not "antics." It seems to me that the meaning of the word "it" applied to a human being is self-explanatory, given the extremely high rate of violence perpetrated, in particular, on transsexual women. The evidence for this is not speculative, but literal. In one recent and very typical incident, a woman was repeatedly called "it" by her assailants as they kicked her in the head until she had a seizure. We know this because some bystanders not only failed to render assistance, but stood around and laughed as one recorded the assault on his cell phone. It's part of a pattern of escalating violence that includes several assaults and murders in the DC area.
In case you were unaware of this, November 20 will mark the annual Transgender Day of Remembrance, when the victims who did not survive such attacks over the past year will be named and mourned. I do not want to wait until, one year, we know that one of them died at the hands of a bigot who felt justified in thinking that his victim was just an "it" because Eugene Delgaudio told him so. Do you?
The attached image represents yet another monstrous invitation to engage in violence against a vulnerable minority community. Is it illegal to express such sentiments? No, it is not, because we all enjoy a remarkable freedom guaranteed by our First Amendment. However, the fact that an act is legal does not make it morally defensible, and by endorsing Mr. Delgaudio you are affirming it as acceptable behavior for an elected official. I believe you have a responsibility to the public to do otherwise.
I respectfully ask that this paper immediately retract its endorsement of Mr. Delgaudio and explain why. There is no other positive attribute as a candidate that could ever justify such disregard for human life, safety and dignity.
David Weintraub
Equality Loudoun
Update: It seems that there's been a failure to communicate. When you slur a hypothetical member of a group of people, real members of which live in your district and elsewhere, the object of that slur is those real people. Do I also need to point out that the pool of blood in this image is hypothetical? Can we expect you to demand to know whose rainbow blood that is, or do you recognize it as representing the blood of a specific group of people?