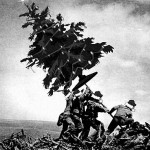 According to the Leesburg Today, the Finance, Government Services and Operations Committee is recommending that the Courthouse Grounds Facility Committee "be directed to work up a plan for seasonal display sponsored by the county government" that would replace the increasingly contentious "limited public forum" policy in place for the past three years.
The solution is essentially identical to what was proposed by former Supervisor Miller at the end of last year, but was not adopted because the display spaces for that year had already been assigned, and in some cases, displays already erected.
Supervisor Shawn Williams (R-Broad Run), an attorney, noted that there are two different Supreme Court cases that show there is legal precedent for such a step.

"Essentially what they decided to do in those cases was you could put up a secular display, a Christmas tree, fine…Things that weren't of an innately religious value," he said, noting there also was a case of a nativity scene put on a courthouse's steps, and that the court ruled that was going to far. "The tough work will be in deciding what the government-sponsored seasonal display is. I think we do have some good guidance from two Supreme Court cases. If we put out a secular display, we should be fine." [My emphasis]
Exactly. The only attorney on the board gets it. Let's hope that the majority of the rest realize that continuing to flog this issue and proposing solutions that won't withstand constitutional challenge is a distraction from the bread-and-butter issues the board should be focusing on. The more intemperate members who will want to waste more time on this will need to be reined in.
There are those who want a display of an innately religious nature, and those who want nothing, not even a tree, because they feel excluded by even a secular symbol associated with Christmas. Both of those positions, in my opinion, are too uncompromising. For the sake of the community, we need to get past this.
The devil, of course, is in the details. We should fully expect attempts to create a county-sponsored display that includes elements of an innately religious nature, and be prepared to explain (again and again) why this isn't permissable.