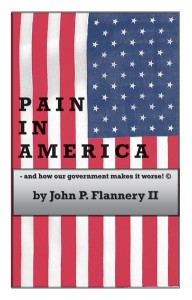 There's pain in America — and the government is making it worse.
Our veterans, the men and women who risked their lives in mid-East theaters of war, came home, many of them broken, in need of care, with missing limbs and post traumatic stress, prompting unrelenting pain.
Our government is withholding relief from that pain, forcing them off pain medicine, the opioids that allowed these men and women to function.
I was a federal prosecutor in New York in the war against drugs in the 1970s, along with then AUSA Rudy Giuliani, and we fought the good fight against drugs.
We did, however, chase organized crime drug dealers who were importing hundreds of kilos of heroin that we called the "white death."
Now the government, state and federal, is chasing pain patients including vets and their doctors for prescribing pain medication.
It's a lot safer to break down the door of a clinic Rambo-style and to arrest sedentary middle-aged doctors, than those who import, manufacture, and distribute illegal drugs on our streets.
The government should prosecute those who are dealing drugs instead of doctors who are healing patients.
The DEA is insisting that Vets return to a doctor's office monthly for their "scripts."  They know the vets can't get VA appointments to get the scripts.  They know the VA's health care system needs a pace-maker.  The back logs for VA care are horrific.  Vets have died waiting for care.
One veteran's wife said, "the VA treats people on pain meds like the new lepers."
Millions of Americans suffer the kind of chronic, unremitting pain that courses through the body like a raging storm causing misery that can't be known unless you've suffered it.  These veterans fit that profile.  This pain steals the joy of waking life and bars restful sleep. The patient may remember what it was like before pain convinced him he'd never find peace again. Dante wrote in his "Inferno" how "[T]here is no greater pain than to remember happiness in the midst of one's misery."
The government is engaged in a holy war that denies to pain patients including vets the opiates approved by the U.S. Congress for moderate and severe pain. The government teaches the public to forgo pain relief for fear of possible addiction.  But there's a big difference between dependence on a pain treatment so one can function and being addicted.
Joy Ilem, the Deputy National Legislative Director for Disabled American Veterans, reportedly said, "We're hearing from veterans with lifelong disabilities who never had a problem with addiction issues.  They have been on these drugs for decades, and then all of a sudden it was boom, a total change in attitudes."
Richard Paey, a client of mine, was sentenced to 25 years in prison for the Percocets prescribed for his pain.  Not even the Supreme Court of Florida would concede it was constitutionally impermissible to prosecute him for just being a patient.  It took then Gov. Charlie Crist and a unanimous vote by the Florida Cabinet to grant Richard a full pardon.
One federal prosecutor told me that she thought that the government should talk to my dentist for prescribing Oxycontin for acute pain following severe dental surgery.
As if we didn't have enough junk science in society, now we have investigators making medical decisions for chronic pain patients.
We have to start paying attention to what prosecutors are doing to compromise medical treatment or it won't be available when you need a prescription.