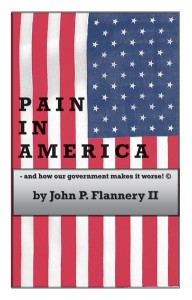 There's pain in America — and the government is making it worse.
Our veterans, the men and women who risked their lives in mid-East theaters of war, came home, many of them broken, in need of care, with missing limbs and post traumatic stress, prompting unrelenting pain.
Our government is withholding relief from that pain, forcing them off pain medicine, the opioids that allowed these men and women to function.
I was a federal prosecutor in New York in the war against drugs in the 1970s, along with then AUSA Rudy Giuliani, and we fought the good fight against drugs.
We did, however, chase organized crime drug dealers who were importing hundreds of kilos of heroin that we called the "white death."
Now the government, state and federal, is chasing pain patients including vets and their doctors for prescribing pain medication.
It's a lot safer to break down the door of a clinic Rambo-style and to arrest sedentary middle-aged doctors, than those who import, manufacture, and distribute illegal drugs on our streets.
The government should prosecute those who are dealing drugs instead of doctors who are healing patients.
The DEA is insisting that Vets return to a doctor's office monthly for their "scripts."  They know the vets can't get VA appointments to get the scripts.  They know the VA's health care system needs a pace-maker.  The back logs for VA care are horrific.  Vets have died waiting for care. Continue reading →