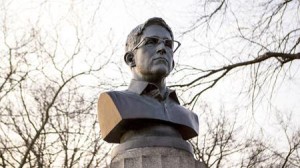 Whatever anyone thinks of former CIA network administrator, Edward Snowden, whether as a whistleblowing champ hero or a hacking chump coward, he raised the consciousness of citizens to the fact that they had very little privacy, that we all remain under constant warrantless NSA surveillance for no good reason while their secret big data haul makes the fictional Orwellian Big Brother a harsh reality.
Many are willing to surrender freedom and privacy for seeming security.
Many say they don't care if the government is hoovering up every bit of information about them – what do they have to hide?
For all the self-asserting bluster about their individual dignity and independence, many have chosen to escape from the hard-earned freedom defined by our bill of rights to embrace humiliating subjection.
A recent declassified report, authored in 2009, but released just this past Saturday, said the IGs from five Intelligence and Law Enforcement agencies couldn't identify any specific ways that the massive surveillance, under the code name, "Stellar Wind," exposed by Mr. Snowden, thwarted a single possible terrorist attack.
In a law school note, many years ago, I wrote for a law school journal, that the notion of privacy "implies solitude or quiet or 'social distance,' no doubt as a reaction to our densely populated, commercial society" and the "concept of control is fundamental to an American definition of privacy."
Professor Allan Westin described privacy as the "claim of individuals, groups or institutions to determine for themselves when, how, and to what extent information about them is communicated to others."
In the hallowed chamber of the U.S. Supreme Court, during oral argument, the government made crystal clear its disrespect for everyone's "right to be let alone" from the government's intrusion. Continue reading →