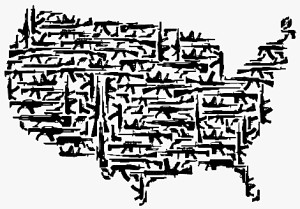 The nation suffers an open wound that we refuse to treat even after the worst mass shooting in American history.
In Orlando, a semi-automatic assault rifle, in the hands of a soulless assassin, hurled 20 deathly shots every 9 seconds, ripping the flesh and organs of the young and defenseless with the fury and power one could hardly resist.
Innocent young men and women who tried to hide couldn't.
In the moments before the rain of fire, they were unsuspecting, happy, having fun, dancing at a club about to close in the early morning hours, and, what sounded like fire crackers, as they couldn't know better, was gunfire; those who were not close to an exit to escape, were stranded, shot at will, as they cowered, and, in the end, 49 would die, and another 53 would be injured or left fighting to live.
Those who ran and escaped were torn, felt guilty, for those they left behind.
This place of unholy devastation was encircled by a community of compassion while the killer continued to hunt those trapped inside.
A Mother traded anxious texts with her son, hiding inside, waiting for the police, hoping to be reunited with his Mom, until the moment he texted, "I'm gonna die." And he did.
There were long waits to discover if a friend or family member made the list of the injured and had survived. Or was on the death roll.
The urge of this inhumane worthless sociopath was founded in intolerance and hate aimed at the club's regulars – at Latinos and Gays.
The shooter fancied himself a political terrorist acting on behalf of ISIS – apparently without ISIS knowing he existed.
Afterwards, too many public figures bowed their head in silence. But offered nothing else.
In Orlando, two young girls placed flowers on the cars of the families in waiting, to give comfort in some small respect, for those anxious to know whether a loved one was no more or had survived. These two girls did much more than those who stood in silence.
The Speaker of the House asked for silence.
That was all.
The Senate "may" yet act.
Or not.
We have been here before when, in the end, nothing changed.
What made this disaster more likely was the political rhetoric that this presidential campaign season has promoted making it acceptable to spread hate and urge violence.
As a kid in the South Bronx, we had a rhyme, "Sticks and stones will break your bones, but names will never hurt you."
Life instructs us that's not even close to true.
Indignity and inhumanity are insufferable to the persons scorned.
Worse, making it acceptable to say such hurtful things, gives license to the worst human tendencies to hate and harm.
In recent days, too many citizens have turned from our nation's early promise of equal rights and toward intolerance, and become unthinkingly eager to cast out one group or other – Gays, Latinos, Muslims.
Thus may indecent public discourse have made possible this flawed and evil actor in Orlando.
We are so proud of how "exceptional" we are as a nation that we refuse to consider how Australia outlawed all guns after they suffered a mass killing.
We refuse to outlaw assault weapons that have no general use for any acceptable civilian purpose.
We refuse to require gun owners to submit to background checks no matter where or how they get their guns.
We refuse to withhold weapons from those who make our terrorist watch list.
What kind of a nation have we become?
What are we going to do to stop this gun violence?
And when?
Each of us must resolve to act, to insist on protections against gun violence that we should have had all along.
We must brush aside those who make a show, of bowing their heads in silence, but who do nothing else.