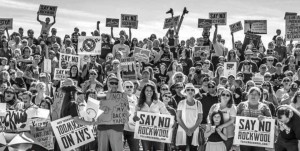 The Jefferson County Board of Education (BOE) has announced its intent to seize the Ranson, WV land where the Rockwool Plant broke ground, so that it may build a student center instead; in response, Rockwool has filed a civil rights action in federal court last Friday to stop the seizure so that it may remain where it is and open shop sooner rather than later.
From Ranson, WV to Maryland to Loudoun County, citizens have been concerned about the fallout from the Rockwool plant in Ranson, WV; there are estimates that there may be as much as 392 tons of pollution headed east to Loudoun from Ranson, WV when (and if) the plant is up and running.
This is a political drama lining up an array of top public officials supporting this corporation and its plant when ground was broken in June 2018, with the people, the citizens, firmly in opposition, demanding to know, "what were they thinking."
The public objects that support by these public officials lends too much weight to business profits and jobs without considering the community concerns about the plant's smoke stack pollutants compromising the health and safety of nearby elementary school children and citizens across the region; another challenge for commuters is the imminent and ceaseless daily flow of gravel grinding trucks on Route 9 traveling to and from the WV plant.
Loudoun citizens joined those in West Virginia and Maryland who oppose this plant, in a group self-described as "Loudoun Against Rockwool" – local government entities including Lovettsville have opposed the plant.
On April 9, 2019, Courtney B. Harden, Esq., on behalf of her client, the Jefferson County Schools Board of Education (BOE), wrote Rockwool to say that the BOE "has determined the need for a Regional Student Support Center to meet the educational needs of the community" including resources for handicapped students, for mental health, for alternative education, for special ed, to create a STEM center for gifted services, and more.
After reviewing the logical place for such a center, Ms. Harden said they have decided they require a full taking, by eminent domain, of the land that Rockwool planned to use (194.7 Acres).  Citing the West Virginia Constitution, providing that such a taking required compensation, the BOE offered Rockwool $1,362,900 (or $7,000 an acre)" and invited further discussion.
In response, Rockwool filed a 46-page civil rights action in the US District Court for the Northern District of West Virginia last Friday, insisting that the BOE is "bowing to public pressure created and fueled by half-truths."
The citizens have publicly raised a series of objections to the "gotcha" process local officials followed to make Rockwool a possibility.
The first indication of the strength or weakness of Rockwool's suit will be whatever response BOE files, and whether the Court decides to grant any stay of the taking by the BOE.
The citizens are excited that they may have finally found a way to right what they consider a rigged system that wrongly favored Rockwool.
Chris Tandy, a spokesperson for 350.org in Loudoun, said, "There's enough potential for dangerous pollutants to come out of that West Virginia factory and to be carried by the wind current to Loudoun that we should all be very concerned about harm to ourselves and to our agriculture, wineries and breweries."
Nor do we have to guess what those pollutants are because they are itemized in an "Air Impact Assessment" submitted by Rockwool that has been widely circulated and, some think, should have been enough to slam the door on this questionable development project.
"When you look at Roxul's own Air Impact Assessment," Chris said, "you'll see potential for hundreds of tons of VOCs [Volatile Organic Compounds], Particulates, Sulphur Dioxide, and Nitrogen Oxide, and that should worry all of us."
An engineering review by the Sierra Club states that Rockwool "fuels and raw materials are known to contain numerous hazardous air pollutants, such as mercury, arsenic, cadmium, and chromium."