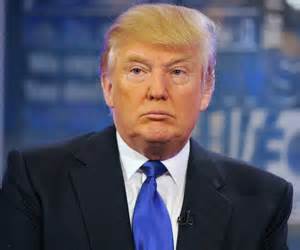 Seneca wrote that the fates either lead you to your destiny or drag you to it.  Republican leaders have been dragged to their destiny, when they must belatedly denounce their presidential nominee, Mr. Donald Trump, for what we've all known from the outset about his lack of character.
Mr. Trump, the Republican presidential nominee, has proven himself to be a billion dollar failed casino owner, mob associate, serial liar, trash talker, a slanderer, misogynist, and bully to men and women alike.
Mr. Trump has violated all the customary norms of polite and respectful personal conduct.
Mr. Trump relies on a syntax that, when tweeting or speaking, obscures and defies clarity and common language usage bordering on a word salad.
Almost from the time that Mr. Trump announced his candidacy at his gaudy gold plated 5th Avenue tower, seemingly inspired by Ayn Rand's "The Fountainhead," America has been on notice that Mr. Trump is intolerant of immigrants, blacks, Muslims, Jews, the disabled, those who are overweight, generals, veterans, war heroes, the parents of a Muslim soldier who gave his life in the mid-east, anyone who crosses him, and his most blatant disrespect is reserved for women.
Mr. Trump was bad news the day he announced, most thought his candidacy was some sort of joke, since Trump has never served the public in any appointed or elected capacity, and, when he won the Republican nomination, too few Republican leaders denounced him. Continue reading →