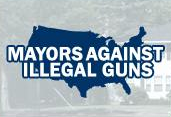 The Loudoun Times-Mirror is reporting that Purcellville Mayor Bob Lazaro has joined the Mayors Against Illegal Guns coalition, a bipartisan organization advocating for more (many people would say reasonable) restrictions on firearms. They are advocating, according to the Times-Mirror, "for Congress to pass laws requiring every gun buyer in the U.S. to pass a criminal background check; making gun trafficking a federal crime; and banning military-style weapons and high-capacity ammunition magazines."
If one is a legitimate and responsible gun owner, I don't see how these measures would be a terrible burden. I'm not sure what they mean by "military-style" weapons – that should be clarified – but certainly no legitimate gun owner has a need for high capacity magazines like the ones that made the mass slaughters in Colorado and Connecticut possible. Even if you prefer a semi-automatic for predator control – which I can appreciate – if you can't hit a coyote without a 30 or 50 round magazine you should probably find a new line of work.
The article has attracted the sort of comments one expects an article like this to attract. However, one commenter makes a very interesting point:
..when Bob Lazaro shifts to a new position, it means that things have somehow changed and the majority is looking at something in a new way.
Whatever your opinion of Mayor Lazaro, I think you would have to admit there is truth to this. In the service of what some might call his political ambitions, and others might call his interest in the commercial development of Purcellville, Mayor Lazaro has shifted his position on all sorts of things, including his religion.
And recent polling data seems to bear the observation out: From record low support for stricter gun control in 2010 and 2011, Gallup now finds that 58% of Americans support strengthening the laws covering the sale of firearms. This is an increase from 43% in 2011, which is remarkable. It remains to be seen whether that shift in public opinion is stable.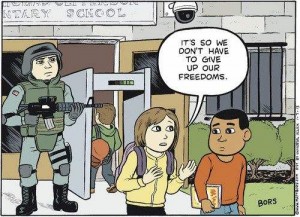 Another measure of opinion shift, although not very quantifiable, is the degree to which people on the losing side of the shift abandon all sense of proportion and reason in their interactions. The most-watched example today and yesterday is probably the interview with Alex Jones of InfoWars. Another occurred right here on this blog, when a commenter became enraged by nothing but a description shared by one of our authors of an armed man he'd seen who had made him uncomfortable. That commenter, reflecting his embrace of an up-is-down, no-is-yes world view, actually expressed the opinion that the author of the post is a "bully," while the man he had observed monitoring a public place with a Glock prominently displayed on his hip is his victim. In both cases, this kind of hyperbole usually signals that the person knows they do not occupy the winning position in a debate. As disturbing as they can be to witness, I generally take these attacks as a positive sign.