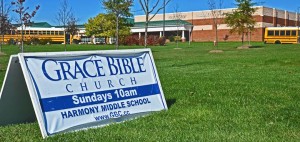 US Supreme Court Justice Hugo Black in 1947 explained in his opinion in Everson v. Board of Education that a government "establishes" a religion in violation of the First Amendment when it's "set[ting] up a church," and aiding any religion; Justice Black cautioned that "the wall [separating church and state] must be kept high and impregnable" against even "the slightest breach."
In past years, around December, we discussed whether we may have crèches, menorahs, and symbols of religious worship displayed on public common grounds when seeking to skirt this prohibition.
We haven't, however, spent an instant in public dialogue with the county school superintendent, school board or board of supervisors about whether we have been violating the establishment clause of the First Amendment when we have transformed our schools into houses of religious worship on "the Lord's Day."
About 40% of our public schools (34 out of 87 schools) in Loudoun County host Masses and religious worship every Sunday.
The gyms, cafeterias and libraries in our public schools have served as the nave and transept for various church denominations going back 12 years or more.  We've had these religious services without a murmur of inquiry or dissent, and now suffer from an inertial indifference to question what's become an unquestioned practice – "don't rock the boat" – "after all, the services are not during regular school hours" – "the churches pay to lease the space you know" – even though the established practice appears wholly unconstitutional.
It's time to declare that religious worship is an impermissible use of our public schools.
Weeks ago, I noticed a large sign roadside in front of the Harmony Middle School east of Purcellville, inviting the public to join the "Grace Bible Church, Sundays 10 am, [at] Harmony Middle School."  The Bible Church's web site published the same invitation –  http://gracebibleva.org/ . Pastor Jordan greeted his congregants at services "to God's worship" -(http://gracebibleva.org/mediaPlayer/#sermonaudio/63 )
The Harmony principal said he'd approved the Bible Church's worship in accordance with school policy.  As indicated, Harmony is only one of the County's schools hosting religious worship.
Some jurisdictions take great pains to ban religious worship in the public schools so that they won't breach the constitutional barrier designed to separate church from state action.
The U.S. Court of Appeals for the 2nd Circuit, in 2011, in the case, Bronx Household of Faith v. Board of Education, upheld New York's ban against religious worship in its public schools because "the conduct of a 'religious worship service' has the effect of placing centrally, and perhaps even of establishing, the religion in the school."  The Court found further that "allowing the conduct of religious worship services in schools would give rise to a sufficient appearance of endorsement to constitute a violation of the establishment clause."
The Supreme Court earlier, in 1971, established a three-fold "test" in Lemon v. Kurtzman to decide whether a government's interaction with religion violated the establishment clause.  It is indicative of "establishment" when the disputed practice is religious rather than secular, when the practice advances religion, and, finally, when the government is entangled with the religious practice.
In Loudoun County the Churches that use public school space are holding "church services" and collecting "donations."  This use advances religious worship, and thus religion.  The government is plainly entangled when it's hosting religious worship not in one or two schools but in 40% of all the County's public schools.
It's past the time when we should have stopped this unconstitutional "establishment" of religious worship in our public schools.
See my full report here: REPORT_CHURCH IN SCHOOL_by_J_Flannery_12_8_14