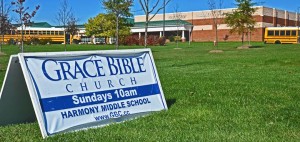 US Supreme Court Justice Hugo Black in 1947 explained in his opinion in Everson v. Board of Education that a government "establishes" a religion in violation of the First Amendment when it's "set[ting] up a church," and aiding any religion; Justice Black cautioned that "the wall [separating church and state] must be kept high and impregnable" against even "the slightest breach."
In past years, around December, we discussed whether we may have crèches, menorahs, and symbols of religious worship displayed on public common grounds when seeking to skirt this prohibition.
We haven't, however, spent an instant in public dialogue with the county school superintendent, school board or board of supervisors about whether we have been violating the establishment clause of the First Amendment when we have transformed our schools into houses of religious worship on "the Lord's Day."
About 40% of our public schools (34 out of 87 schools) in Loudoun County host Masses and religious worship every Sunday.
The gyms, cafeterias and libraries in our public schools have served as the nave and transept for various church denominations going back 12 years or more.  We've had these religious services without a murmur of inquiry or dissent, and now suffer from an inertial indifference to question what's become an unquestioned practice – "don't rock the boat" – "after all, the services are not during regular school hours" – "the churches pay to lease the space you know" – even though the established practice appears wholly unconstitutional.
It's time to declare that religious worship is an impermissible use of our public schools. Continue reading →