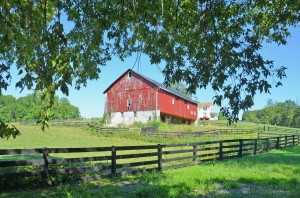 Loudoun's Todd Morrison has invited farmers and neighbors "to discuss and share news about the free exercise of traditional agriculture in Loudoun County.  In particular, it has been brought to our attention," Todd said, "that Loudoun County has started to increase valuations and apply assessments …"
Todd said, "This seems to have been extended to requiring zoning permits with a $165 fee for chicken coops, and even fencing."
The Loudoun County Assessors taxing farmers in Western Loudoun and not gradually, the assessments go from zero last year (2016) to tens of thousands of dollars on pole barns this year (2017), farmers never assessed for taxes before.
They are not sweeping up all farmers.  It may take 5 years to get them all.  They are not sure who all the farmers are.  But they've already come down on the first fifth of the farming community this year.  Many families purchase an aerial flyover view of their farm or homestead.  The tax assessor has been getting the same aerial pictures, received in the office of the Commissioner of the Revenue, Robert S. Wertz Jr.  The Commissioner's Office is using those pictures to identify buildings on farms and assessing the farms for tax purposes.
The County Commissioner apparently can't find all the farmers from the air.  The County Commissioner therefore asked the Loudoun County Farm Bureau, Inc., in a meeting to identify who all the farmers are that he couldn't find.  The Farm Bureau said no way.
Todd makes it clear why farmers and citizens are concerned, "This is detrimental to the future of traditional farming and local food production in Loudoun County."
Callie was also critical, "Honestly, we should stop being assessed at 'market value' and be taxed on the property at the price we paid. This shifts the tax burden to new and expensive homes rather than having people who have lived here all their lives subsidizing stuff they don't use (new schools etc.)."
Nor was this the only assault on farmers and citizens, the County is going to charge $165 per permit per chicken coop.
Christopher said, "Did anybody pay $165 dollars to have someone tell them where they could stick their coop? I'd like to pay $165 and tell them where they can stick my coop."
Incidentally, this is $165 per coop and the coop must remain in an identifiable location or area on the property.
Todd started a FB page, titled, "Farm Free Loudoun," and said, "it's not just the foxes that want a piece of your chickens."
Joy said, "I have multiple generations of Loudoun farmers in my family and friends who are currently impacted."
Todd wrote, "Loudoun County is the highest taxed county in the state of Virginia, and this new application of tax code threatens to remove any incentive to farm in Loudoun County."
One farmer said, "They tell us they have the right to tax or not, but not tax selectively, it must be everyone at one time."
"Outrageous valuations, taxed at the highest rate in the state," Todd said, "is a recipe for ending local farms and changing the nature and appeal of Western Loudoun."
The Farm Bureau has tried to address these issues, but, Todd charges, "they are not receiving adequate assistance or support from western Loudoun County Supervisors."
A source close to the Farm Bureau said, "The Western County Supervisors are not coming to any meetings of the Farm Bureau.  They have sent staff.  They said they would come themselves twice, and sit down and discuss this with us.  But it hasn't happened."
Lee said, "I wrote to Higgins and got no response."
Another farmer said, "I wonder if they're playing us, and taxing us to pay for that 62% salary increase they're so hot to get from us taxpayers."