And why I'd like to continue on the Soil and Water Board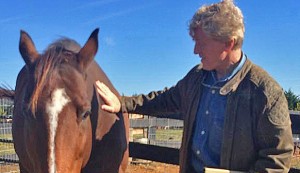 Serving as Director of the Soil and Water Board is a public service.  It doesn't pay anything.  It's not a political stepping stone.  It is all about an issue that many of us think is critical and care deeply about – assuring the quality of our water and soil.
This is the reason I ran for this office four years ago, and why I seek re-election to continue another four years. I believe we have been making a difference for the better. I want to continue in that vein.
This job and the Board we serve imposes no regulations on any one. Participation is voluntary. We serve farmers and landowners by underwriting the cost of keeping their streams and creeks clean for the welfare of everyone. These waters make their way to the Potomac and Chesapeake Bay and, along the way, folks in Loudoun and Fairfax Counties drink that water.
The overall objectives of Soil and Water are straightforward. First, we seek to keep "nutrients" (waste) out of our waters. We underwrite the cost of fences to keep our livestock out of our waters, and subsidize troughs in the fields, and the necessary power and water lines. Second, we are similarly concerned to avoid soil runoff and erosion.  We preserve and protect our top soil because its loss takes a thousand years to replace.  That's why we encourage buffers, cover crops, and tree plantings. Continue reading →