This actually appeared on the Fox News website last month. See a problem?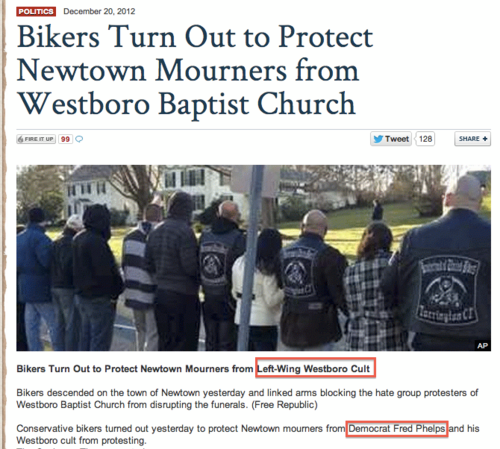 It's the same problem exhibited by commenter "Suzie Q" here:
Someone who hates [sic] republicans isn't a democrat?
It's tempting to just laugh at stuff like this (and I'm not saying you shouldn't). But clearly, there are people who actually conduct their lives on the basis of this kind of "logic," and some of them participate in our democratic process. Here's the thought process that led to this howler, broken into its simple-minded steps:
Westboro Baptist Church protests at military funerals;
Protesting military funerals (or anything military) = BAD;
BAD = 'Left-Wing,' 'democrat';
Therefore: Westboro Baptist Church = 'Left-Wing,' 'democrat.'
It's perfectly logical, if you happen to be stupid, or find the stupidity of others useful in achieving your ends. (Detractors: You may now commence loudly complaining that I am an "elitist" and "intolerant" of others' "worldviews," bypassing the need to address the inconvenient fact that the thought process illustrated above is real and leads to conclusions that are materially false.)
What Westboro Baptist Church has created is actually a variant of the fundraising mechanism used by fraudster Eugene Delgaudio. Instead of raising money directly from ignorant targets, whose numbers are waning, the WBC model is to incite violations of its own First Amendment rights. The more outrageous and offensive its behavior, the more its leaders can rake in via "damages." WBC has been effectively neutralized using the technique of the Phelps-a-thon. Binary thinking (and its cynical exploitation) can only be neutralized using education.