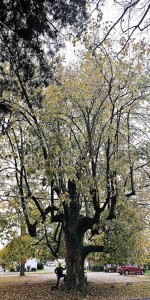 Some evening when you are walking near the Lovettsville Town Council, right across from Andy's Restaurant, look up and observe a natural beauty, about 100 feet or more high, and take a pix of a friend standing next to it, to save some record of its majestic proportions.
If you look on the ground toward the north of the tree, on the same side of the street, you can see its younger offspring already climbing to the sky.
The means to identify a tree for expert and amateur alike is to study the leaves, the bark, the twigs, and the fruit.
The leaves are often the first and most reliable indicator. Continue reading →