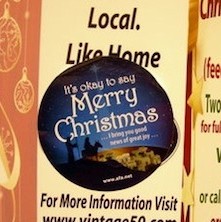 You know, I pretty much agree with a sentiment expressed by the many people who wish the perennial courthouse unpleasantness would just go away. That sentiment is commonly expressed something like this: I uphold the right of anyone to express any belief, no matter how offensive, because that's what the Constitution guarantees – but it would be more effective and neighborly if the way people chose to express their beliefs was limited to inoffensive 'positive statements'.
Consider the campaign, spearheaded every year by the American Family Association*, to get store clerks and others dealing with the public to say "Merry Christmas" instead of "Happy Holidays." I personally don't care what people say to me; if someone says "Happy Holidays" I don't have any trouble understanding what they mean, and if they say "Merry Christmas" I don't jump to the conclusion that they've intentionally dissed some other holiday. However, this detail is important to the supporters of this group, and they have every right to advocate via legal means for the changes they want. Their campaign involves (in part) distributing buttons and stickers that say "It's okay to say Merry Christmas." So far, so good; that sounds like a positive message expressing their belief.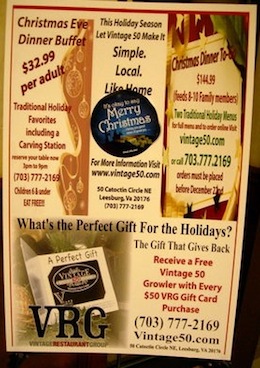 Now, consider how this message was deployed in the following instance. After the public input session on Monday night, my husband and I stopped at Vintage 50, just down the road from the government center. The pub had a poster on display out by the entrance, advertising their seasonal specials. Someone, as shown in the accompanying photos, had slapped one of their AFA stickers over the logo on the poster, under the section containing the phrase "This Holiday Season." The person who chose this means of communicating did so even though the poster also included, just as prominently, "Christmas Eve" and "Christmas dinner" events. It seems that Vintage 50 feels that it is indeed okay to say "Merry Christmas," but this is not good enough for our sticker-wielder. Here's what it looks like they really meant: "It's not okay to NOT say Merry Christmas. Every. Single. Time." Or maybe this: "Don't you dare ever say 'Holidays' or we will vandalize your property."
This isn't persuasion; it's bullying. It's political correctness with a side of smug entitlement. If I were a small business owner in Leesburg, and strangers who call themselves Christians had defaced my advertising with their imperious demands (however nicely worded), it would leave me with a very negative impression of Christians. And I see that bullying, vigilante approach replicated over and over in the current debate.
That's why it's hard to take too seriously complaints of Christian belief being denigrated, as if only non-believers are responsible for the nasty and denigrating tone of the conversation.
The worst thing one could honestly say about the (also vandalized) Santa-on-a-cross display – actually conceived of and designed by a thoughtful Christian high school student – is that it was in poor taste, meaning that the young artist misjudged how his work would be interpreted by those who didn't know his intent. But the assumption on the part of the torches-and-pitchforks crowd was nearly uniform: They presumed, with no evidence at all, that he was an angry, mean "atheist" with no motivation other than to offend them and ruin their Christmas. But supposedly Christian vandals are doing a pretty good job of ruining Christmas all on their own – why, for example, was the (to me, anyway) kind-hearted "Letter from Jesus" display also destroyed by vandals on Monday night? Can anyone who was offended by that tell me why?
The nasty tone we are seeing now, three years on, was set by the false accusation leveled by grandstanding Eugene Delgaudio: that the county was going to "ban the nativity scene" and was engaging in a "war on Christmas." This characterization is false and inflammatory in every respect. In fact, if anyone was justified in thinking that the county intended to ban expressions of their religion in the public square in 2009, it was the other faith communities that had just in the previous year been included in the holiday display on the courthouse lawn. The nativity scene had existed free of vandalism or even serious objection for many years. Talk of banning all displays only started after the displays were no longer exclusively Christian. I'm not suggesting that this fact had anything to do with the initiation of such talk, I'm just saying.
There are rude, obnoxious people on both "sides" of this manufactured, falsely framed controversy, and they seem to have one thing in common: They want things to continue as they are. There are also thoughtful people willing to hear each other if they are given a chance.
*The AFA's status as an anti-Muslim and anti-gay hate group doesn't directly pertain to the button and sticker aspect of this campaign, but it is necessary, I think, to the reader having a comprehensive understanding of this situation. The hate group designation is in large part due to statements by the well-known AFA spokesman Bryan Fischer, whose many jaw-dropping remarks include the assertion that non-Christians "have no First Amendment right to the free exercise of religion."