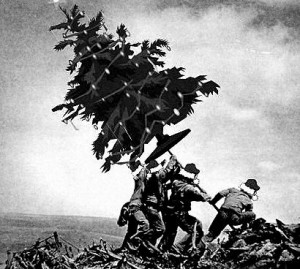 Back in 2005, the School Board's Legislative and Policy Committee was meeting regularly to discuss how they could rewrite freedom of expression policy, at the behest of Dick Black, without violating federal law. After one memorable meeting during which some inadvisable confessions were made, I titled my report "It was late and they were tired."
Alas, last week's discussion of holiday displays by the new Courthouse Grounds and Facilities Committee (CGFC) took place at only 6:00 pm.
To briefly recap, the new board has abandoned the idea of a limited public forum. This is because – as I predicted – those like Eugene Delgaudio, who claimed to support freedom of expression for all, in reality did not like anyone's expression but their own and demanded that the displays end. The board is now pursuing the idea of a county-sponsored holiday display on the courthouse lawn, and the CGFC has been tasked with designing it. Further, the CGFC has been reconstituted and is now stacked with individuals who were active in writing letters and speaking to the last board in favor of allowing the display of religious symbols and messages, but prohibiting the display of other symbols and messages.
One of those individuals is John Mileo, who had a design proposal for the rest of the committee. But first, he had to explain his reasoning. Continue reading →